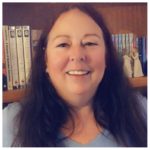 Karen Wilson
Founder/Website Consultant
Want to make your website work for you?
 Hi, I'm Karen Wilson and I love technology, building websites and streamlining business processes.  
I want to be the "Super Nanny" of websites and help Australian Small Businesses to achieve their online business goals. 
After twenty years of running my own retail and online Jewellery business I decided to change my career.  I became a Website Consultant because I had a "fear of missing out" (FOMO).  Missing out on all the glorious online tools that have been created to benefit us in our business/life by making it easier and more profitable.  These tools have now become my new "gems" and I have some sparklers to show you!  :).
The process I lead you through to create or refresh your website is solid in it's attention to detail and is strategically designed to keep us all on the same page and going in the right direction to successfully launch your awesome website. 
Once we have launched your gorgeous website one of our monthly Website Care Plans will give you peace of mind that your website is updated, secure, fast, optimised and up.       
Let's get together and create an awesome website.    Are you ready?